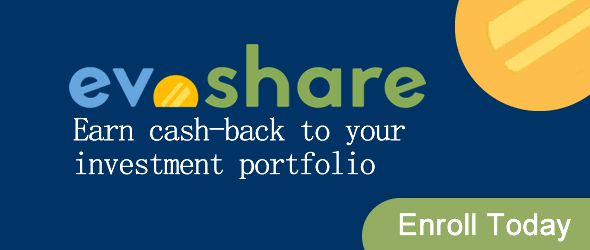 ST. LOUIS, MO, November 15, 2021/PRNewswire – SogoTrade, a digital brokerage subsidiary of Sogo Financial Group, Inc. ("Sogo"), has partnered with EvoShare, a microsavings-oriented FinTech startup based in Berkeley, CA, to bring cash-back savings opportunities to its customers.
"Cash-back offers are popular and incentivize people who spend money at retailers, restaurants, hotels, and more," said Jonathan Yao, CEO of SogoTrade. "SogoTrade is excited to partner with EvoShare, bringing a robust cash-back savings infrastructure to everyday people, enabling them to earn on everyday spending and invest in their future."
EvoShare's proprietary system turns a percentage of every dollar spent at over 10,000 partnered local and online stores into contributions into the participant's SogoTrade brokerage account.
"When customers checkout at participating online retailers, they can earn up to 30% cash-back that can build up their financial safety net," Yao said. "This cash-back can be automatically deposited directly into your SogoTrade account."
"We're confident the partnership between EvoShare and SogoTrade will make saving for the future easier for all SogoTrade customers," said CEO of EvoShare Eugeny Prudchyenko.
The cash-back earned through EvoShare is in addition to any other credit card incentives; it doesn't replace them. Participants shop and dine as usual at participating merchants.
New and existing customers get free access to EvoShare. "With your SogoTrade account, the EvoShare monthly fee is waived. You'll get free access to an EvoShare membership," said Yao. "This is just another advantage of having an account at SogoTrade."
Continue reading "SOGOTRADE OFFERS CASH-BACK TO FINANCIAL PORTFOLIOS WITH EVOSHARE"